Trick Player

Joined: Wed Jul 21, 2010 7:59 am
Posts: 202
Location: Turlock California
So I'm very excited to have another custom drum being made by Trick. It's going to be a little guy at 10"x8". The finish I'll wait to describe until I can get some pics for reference. It won't have much use as a main snare but will be a great auxilliary snare.

I plan to work it in next to my 12" tom. Being that this snare is the same demensions as a tom, it'll be multi-purpose. I figure I'll keep the snares off most of the time so it will pretty much function as a high pitched tom. When it's needed, I can just flip on the snares.

My setup that I'm using for this particular band (http://www.facebook.com/Aimaora) is the most unconventional setup I've done so far. It's of course a double bass setup with my 18" octoban and 12" tom between the kicks. To my right is my 16" rack tom with my 8" tom mounted over the 16". For my main snare I'm using my 13"x7". When I get the new 10" snare its going to go next to the 12" tom with the octo above and between them. It will be a triangular formation if that makes sense.


I may add my 14" rack tom to my left but I'm realy trying to keep this kit to a minimum.

I'll be making a vid of explaining my setup soon. I did one recently for my standard set up just for fun that can be seen here---> http://youtu.be/7-v6MSpvjBc Since I'm involved in 5 different projects of varying metal genres I've been having a blast putting together different kits to fit each application.

_________________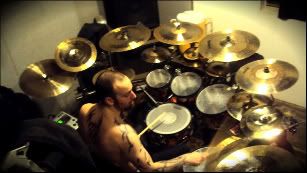 www.facebook.com/people/Tristen-Costa/100000919790148
http://www.reverbnation.com/#!/trialsandmemories